Celebrating 10 years of community support
12 December 2017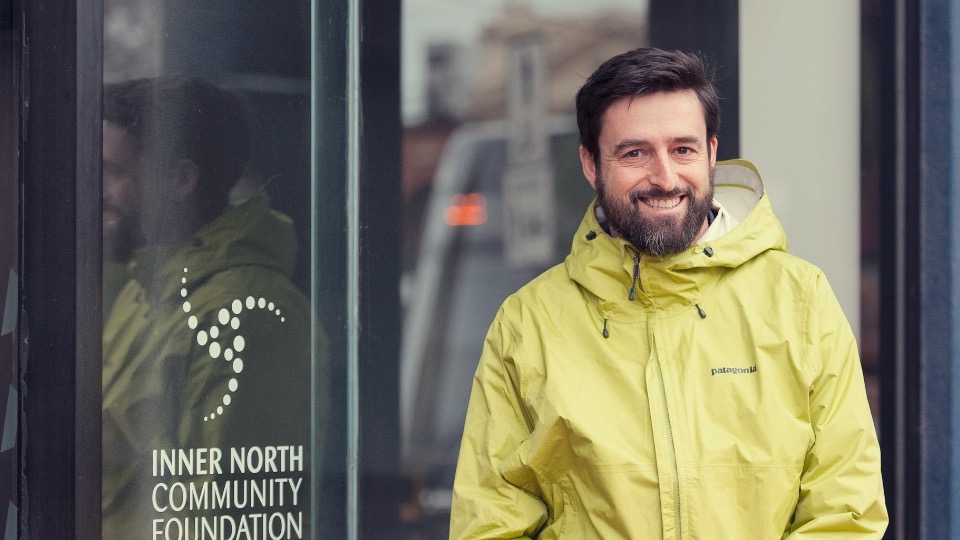 In this week's Full Story we catch-up with Inner North Community Foundation executive officer Ben Rodgers (pictured). The Foundation is a major sponsor of the Jobs for Youth Campaign and we chat about its decade-long work in the north, its role in supporting community organisations and Ben's thoughts on the value and importance of work for young people.

Based in Northcote, the Inner North Community Foundation celebrates its 10-year anniversary this year. The Foundation distributes dividends from investments in the form of grants to local organisations such as the Inner Northern Youth Employment Taskforce, which implements the Jobs for Youth Campaign.
This year's Foundation annual grants round funding was announced at the end of August, with 20 organisations receiving $370,000. This has brought the value of grants distributed by it to a whopping $2.6 million, which has been granted to more than 130 local community organisations over the decade the Foundation has been operating.
"The Inner North Community Foundation is a local grant maker, we're interested in supporting the fantastic local organisations that support local people to do what they do best, which is run programs and work with people from strength-based approaches to remove the barriers that people face in their lives, particularly around their journey to work," Foundation executive officer Ben Rodgers said.
Ben has a strong connection to the north, having grown up in Northcote and living in Coburg now. He has been with the Foundation for two years. Prior to taking up his role at the Foundation Ben worked at a community advice bureau in Epping. He has a logistics degree, and true to his philosophy of finding different doors to access the workforce Ben found a way to study and live overseas to complete his degree, opening the opportunity for a move into the community sector. Underpinning Ben's work philosophy was his experience undertaking a business traineeship.
"I think that traineeship stuff gave me a strong foundation in work. Four days at an office and a day a week at TAFE learning how to use Excel, learning how to open the mail, stamp the mail and sort the mail, which is boring but it's got to get done. It was that founding in basic customer service skills that are transferable in any industry which has helped me throughout my career."
Ben has some words of wisdom for young people to encourage them in their pursuit of work, saying that they need to participate in the community, to get involved and to use the existing structures that are there to help people on their journey into employment.
"There's lots of support and there are lots of doors for young people. It's just a case of figuring out what's going to work for you the individual, because not all support services work for everyone. Whether it's through sports clubs, or through the work of Outer Urban Projects or Marist 180 – there's lots of different organisations out there."
"You're not going to be CEO on day one, it's about the long game and the long game is getting something, getting your foot in the door, getting work that allows you to get more work. You might have a university degree but a traineeship or an apprenticeship might be a way of getting the skills and the experience on your CV and to have local people that can vouch for you."
Ben describes the Foundation as a safe pair of hands for community money. It is a public ancillary fund and operates within a comprehensive legislative structure, meeting requirements from the Australian Charities and Not-for-profits Commission and the Australian Taxation Office around how it handles charitable funds.
"We're a steward of a community resource. We don't deliver services ourselves but we can broker knowledge, relationships and money to organisations that can bring money to life," he said, adding that local groups that are seeking funding also have particular obligations to meet when applying for funding. Importantly, the Foundation recognises that these obligations not be too time or resource-intensive.
"When people are looking for grants they will either read the information on our website or give us a call. We have an annual grants process for the majority of our funds. We have a call for applications, people fill in a form and we make sure they have the right tax endorsements and then we go through an assessment process where local people read the applications and judge the potential efficacy of those grants."
"Some board directors sit on that committee and this year we invited local donors to sit on that committee as well as a way of getting people closer to the Foundation. Ultimately the Board is responsible for making sure that we're granting to organisations that can create community value with our money."
"The process is set up in a way that we're confident that the groups that we fund meet the eligibility but it's a process that's not too onerous on other organisations. We need to strike a balance between making sure our money is landing in the places it needs to land without being so bureaucratic people don't apply because they have to spend two, three or five days writing an application when their time could be better spent working with people."
The Foundation's 2017 round of funding that granted $370,000 to 20 organisations included groups such as Collingwood's Second Chance Cycles who work with people leaving the justice system to give them a sense of work, an opportunity for socialisation and experience of being in a work environment as they repair bikes for refugees and asylum seekers, to SisterWorks, which is based in Richmond. The Foundation's grant enables SisterWorks to rent a shop and sell goods made by refugee women.
"Our sense is that we're a new iteration of what people have done for a really long time, which is come together as a group to say 'What kind of community do we want to live in? How do we make the world a better place for our kids, for our families and for individuals?' It's less about fixing anyone, but working with people so they can become their best selves."
One of the keys elements of a better society is providing work opportunities so individuals can be fully engaged in society. The Foundation is particularly focused on supporting organisations that work to assist young people to develop the skills to gain employment, leading to social inclusion.
Ben describes the search for work for young people, and particularly young people from a disadvantaged background, as difficult. While there are lots of barriers to work, knock-backs and sometimes a sense of applying for work and not getting anywhere, his advice to young people is to hang in there.
"The key to getting employment is perseverance and resilience and keeping on knocking on doors and if you don't get through the front door then go around the back, go through the side, use your contacts, be respectful but you need to be tenacious in following up on work," Ben said.
"Volunteering is another way to open doors and that's what we see here at the Foundation. We provide opportunities for local people to volunteer – particularly people with a sense of connection to the north – because if we're going to provide opportunities and space at the table then I think it's important for us to prioritise a sense of place. We know that people can have amazing skills and abilities and it's just a case of having some experience, someone as a referee and some confidence behind you."
So, as a young job seeker, while you might not have heard of the Inner North Community Foundation listen to Ben's advice, stay strong in your pursuit of work and rest assured the Foundation is helping many of the local organisations that are working together to improve opportunities for young people in Melbourne's Inner North, and that's well worth celebrating.
Congratulation to the Inner North Community Foundation for 10 years of service to the community. For more details visit www.innernorthfoundation