The Island Way
22 September 2017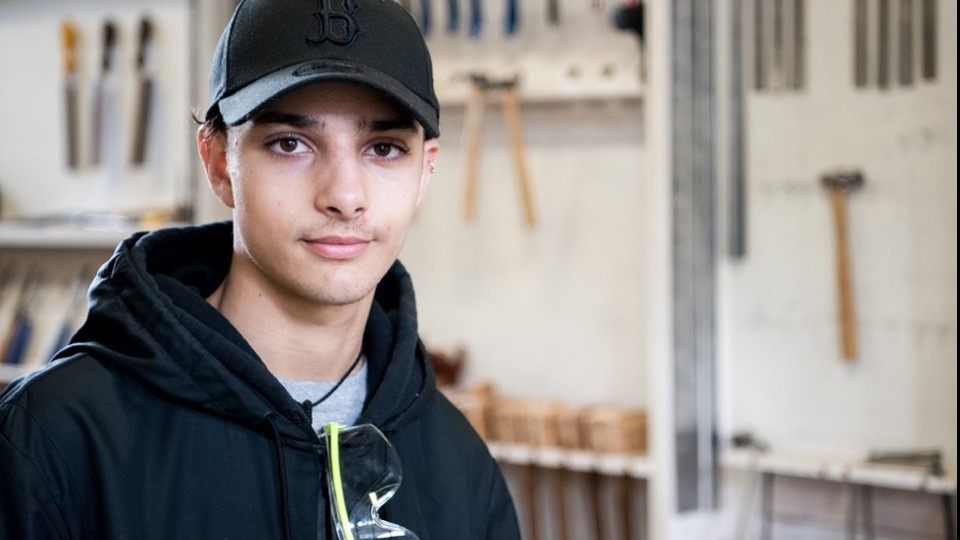 We visit Coburg's The Island to look at the school's work readiness programs and to chat to Certificate II students about their studies and plans for the future.
Steve Clancy has taught at The Island for five years. Coming late to the teaching profession, Steve uses every minute of his life's experience to make a positive impact on his students. He teaches the Vocational Certificate of Applied Learning (VCAL) subjects Personal Development Skills (PDS) and Work Related Skills (WRS).
At Lynall Hall Community School's The Island campus in Coburg, youngsters aged 15-17 study one of five Certificate II courses which are considered pre-apprenticeship courses, and complete their VCAL studies with units in PDS, WRS, Numeracy and Literacy. The Certificate II courses on offer are Automotive, Building, Furniture Making, Horticulture and Hospitality. There's also a weekly sports program as well as camps and excursions.
The hands-on trades-based learning that is a hallmark of The Island takes plus in well-equipped workshops scattered across the site. The knowledgeable staff, small group setting and support services make for a welcoming learning environment, which is a first for some of the students who have made their way to The Island from schools across Melbourne's north.
"We generally like to get the kids in at around 15 or 16 years of age. We think it's beneficial to get them here at a young age because that way we can get them into the swing of our school," Steve said.
Students leave their schools to come to The Island for a number of reasons. Steve said that schools in the region were realising The Island was a nice place to send their kids and that mainstream schools had been building good partnerships with The Island as a result. Steve himself worked at the neighbouring Coburg Teaching Unit which offers an eight-week course to students aged 14-15 who have been troublesome. Playing up at school is often the first indication that students are having difficulties and these youngsters are encouraged to tour The Island's workshops to get a sense of what the school offers should they wish to enroll there in the future.
Industry partner Incolink has supported The Island for nearly 20 years, contributing around $1 million. Fees are kept deliberately low while programs targeting attendance and lateness are also in place to reflect post-school employer requirements, while newsletters keep parents and guardians in the loop.
While most of the students head on to TAFE or other institutions offering Certificate III opportunities following the successful completion of their courses at The Island Steve impresses on his young charges the importance of working hard to build their job readiness skills. These include the art of putting together a good cover letter and the value of building a solid resume. To that end the school is involved in the Real Industry Job Interviews program which has been supported at The Island by Apps Matters VET Advisor Daniel Grech.
"If you're going to go to the effort to write a resume or a cover note then you've got to do it properly. If you think things like spelling and capitalisation aren't taken into consideration they are," Steve says.
It's this sort of no-nonsense information that leaves a lasting impression on kids who may otherwise have fallen through the gap educationally as they set out to forge employment and further training pathways. It's a philosophy that obviously works given the changes seen in most students over their time at the school.
"We have kids who have left here come back to give us an update on where they're working, what they're doing and asking us can they update their resume, can we check their resume that they want to put in, and we take that pretty seriously," Steve said.
"We try to embed into the kids that it's not a game, it's real life stuff that's being taught here and you take these skills into the workforce forever."
Steve advises his students not to be scared of the job and apprenticeship application process because employers understand that young people don't have a lot of experience. He said that casual work at places like KFC and Bunnings, volunteering, or awards and participation in sports or clubs are all valuable additions to a young student's CV.
"The competitive nature of the workforce means that you're selling yourself out there. That's the message we try to embed," Steve said.
COURSES
The Island offers the following courses:
Certificate II in Automotive
Certificate II in Building
Certificate II in Furniture Making
Certificate II in Horticulture
Certificate II in Hospitality
All students also do either Foundation or Intermediate VCAL.
EMMA'S STORY
Year 11 student Emma Parry commenced studying a Cert II in Automotive Studies at Lynall Hall Community School's The Island Campus at the end of 2016.
Automotive studies students such as Emma benefit from training in a commercial auto servicing workshop. Their studies incorporate vehicle maintenance and basic servicing for external clients – tasks such as changing oil, brakes and tyres – as well as restoring vehicles as part of long-term restoration projects.
Away from school Emma is a keen dressage rider, which perhaps helps to explain her interest in horsepower. Emma commutes by train and bus from her home in Melton and she enjoys her time at The Island, which is a far cry from the teen's experience at her previous school. She enjoys the small classes and plenty of opportunity for hands-on skill development as well as VCAL studies which help to skill her for the workforce and life in general.
"The teachers really help you and they work with you around different strategies to work with the school," Emma said, as she tucked into a bowl of spaghetti bolognaise at lunch. Meals are provided to all of The Island's students and are prepared by fellow students studying for their Cert IIs in Hospitality using the facility's large commercial kitchen.
"I find it's better than a regular school. You get your Certificate II as well as VCAL so you get two courses in pretty much one," Emma said.
Emma's exposure to the automotive industry has triggered an interest in pursuing a career in aircraft mechanics and for the first time in a long time she is bubbly, bright and enjoying coming to school.
"I like getting in all the different cars, seeing how everything is placed and finding out about all the different engines. I wanted to be a diesel mechanic to start with but an interest in aircraft mechanics has come recently," Emma said.
At the end of this year Emma is hoping to apply for an apprenticeship with Qantas and it's clear that her studies at The Island have helped to ensure the sky's the limit.
LUKE'S STORY
Hailing from Bundoora, aspiring hip-hop artist Luke Luppino commutes a long way to get to The Island, but for him the journey has been worth it, especially given it has pointed him in a new direction.
Over lunch we chat about Luke's studies and he reels off the list of subjects he's doing as part of his VCAL course, citing Numeracy as probably his favourite class. In addition to Literacy and Numeracy VCAL students also study Personal Development Skills (PDS) and Work Related Skills (WRS) subjects.
"In WRS we talk about jobs, go on the MyFuture website to find out what jobs are best for us, we do our resumes and that sort of thing. We've spoken to the apprenticeships guys that came in to talk to us about jobs," Luke said.
So what did the job survey say about Luke and a career in furniture making?
"It was a no. So last year around August I changed my mind about this furniture stuff and decided that I wanted to do music production. I love music and I'm always around it and I just thought I may as well give it a try," Luke said.
"I'm into hip-hop: making sounds, the production, the beat. I'm doing it at home and once I get my Certificate II in Furniture Making I'm going to try to go to the Sydney Rd Community School to hopefully do a Certificate III in Music Production there."
"I want to move overseas. Maybe work with a few of my idols like rappers that I look up to and listen to right now – Logic, G-Eazy – and be around the hip-hop scene in California and America."
While that's a world away from making furniture the fact that Luke is engrossed in his studies and thinking about his future is a victory for The Island and its way of engaging students who might otherwise be left with few educational options and limited career opportunities as a result.
Luke started at The Island doing a Cert II in Building, but switched to a Cert II in Furniture Making because he felt the environment and teaching style was better for him before deciding on a switch to music production for the next phase of his learning journey. For now though, the focus is on completing all of the requirements to complete his Cert II in Furniture Making.
"I've been working really hard to get my Cert II. In furniture I can make whatever I like really. Right now I'm making three bar stools for my sister and if I have time I'm going to start making a bed. Then we've got some booklets from St Helena that I have to finish off and I've been working hard for the past week to try and finish them," Luke said.
You get the feeling that once Luke has ticked all the boxes to achieve his Cert II a Cert III will be a breeze, and that's got to be music to his ears.
HAYDEN'S STORY
Year 11 student Hayden Vanderlinde is studying a Certificate II in Building and Construction at The Island. Hayden came to the school from Hume Central Secondary College and is another of the students who puts in a big effort to commute to The Island's Coburg location.
Building students work to build cubby houses, which are then sold to clients to off-set the cost of building materials for projects.
"I'm building a cubby house. You've got to construct the sub-floor, do all the wall and roof framing, put the roof on, decking and making the doors," Hayden said.
"It was already designed but we had to do our own blueprints and work off the blueprints. It's good fun."
Hayden will complete his Cert II at the end of the year and is looking for an apprenticeship to start building a career for himself in residential construction before potentially moving onto commercial construction. In the long-term being a qualified builder may help Hayden start his own business, although for now the thought of all the paperwork involved in that is daunting. So instead, a priority is getting his driver's licence so he can get a set of wheels as soon as he's able.
"It's good for apprentices to have your licence because you've got to get around everywhere," Hayden said.
Classes at The Island run from 9am to 3pm and Hayden said there was no homework. This is handy given he holds down a part-time retail job in addition to studying full-time, which is a huge effort for a young man building a future for himself.