PRACE setting the pace
09 September 2017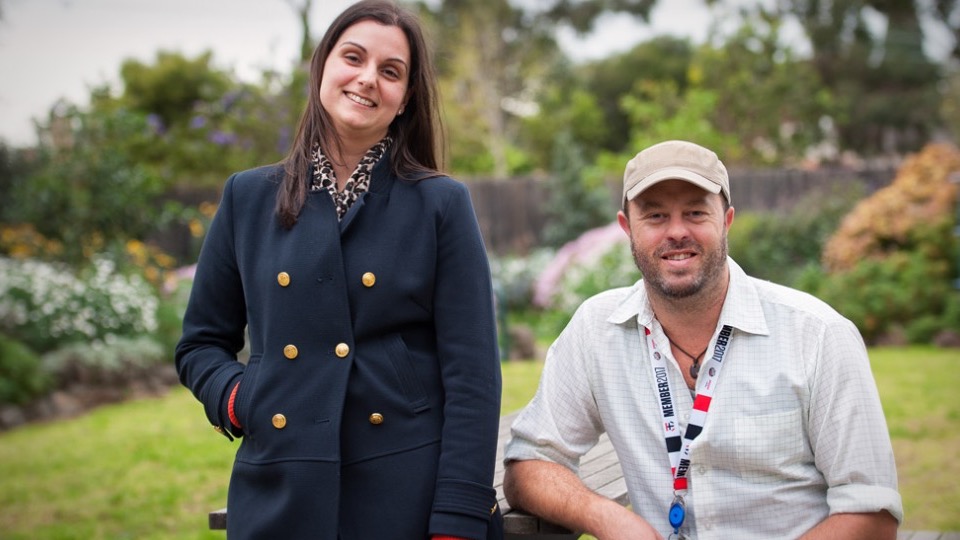 The Full Story: PRACE setting the pace to RECONNECT young people
IMAGE: PRACE RECONNECT Coordinator Adriana Pugliese & Youth Support Worker Mathew Goldsworthy
PRACE – Preston Reservoir Adult Community Education – is a multi-faceted learning centre in Melbourne's north that has a number of strings to its bow when it comes to servicing the area's community education needs.
For young people, PRACE offers the Victorian Certificate of Applied Learning (VCAL) Program and RECONNECT (a State Government-funded initiative), which supports eligible people to find the right course, links them with accredited training or helps them plan their return to study.
VCAL – delivered through PRACE College – is a hands-on option for students in Years 11 and 12, giving young people practical work-related experience, as well as literacy and numeracy. The program also allows students to build personal skills that are important for life and work and at PRACE the two VCAL classes and pre-VCAL class are supported by youth workers Mat and Belinda. Like the Victorian Certificate of Education (VCE), VCAL is an accredited secondary certificate.
"We're also a Learn Local and a Neighbourhood House, and that means there's a focus on the wellbeing of our students and those who use our facilities," PRACE RECONNECT Coordinator Adriana Pugliese said.
"We're a smaller setting. It's much more community orientated here with a warm and welcoming environment and a focus on being all-inclusive; we focus on helping people realise their full potential."
Adriana has been at PRACE for a year in her role as RECONNECT Coordinator. She has an affinity for the issues faced by young people at risk of or who are disengaging from education or who are looking to return to a supported education environment. This understanding of issues affecting young people is underpinned by her qualifications as a social worker and a decade in the sector supporting young people.
"We have 30 registered participants in RECONNECT and our target is 50 for this calendar year," Adriana said.
PRACE's small-school model allows it to run two classes of VCAL for around 40 students, as well as a third pre-VCAL class which runs two days a week. VCAL students are in class five days a week with all classes delivered at PRACE's Sturdee St, Reservoir campus, located about a seven-minute walk from the Keon Park train station on the South Morang line.
"VCAL offers flexibility around its delivery. Young people are engaged in fairly hands-on project-based learning as opposed to what is traditionally delivered in mainstream schools, which can be very academic and is based on the need to sit in the classroom to a timetable and sit and complete sustained pieces of writing and maths. That doesn't suit every learner," Adriana said, as she showed us through the PRACE facility.
PRACE operates from the Merrilands Community Centre, a former school site, which PRACE manages on behalf of Darebin City Council. The site includes large classrooms, an indoor basketball court, student lounge, prayer room, offices and a kiosk where students are provided with lunch as part of their enrolment. Open space, access to a tennis court and computer lab make up the rest of PRACE's facilities.
"VCAL is structured in a way that it is about exploring what you may go on and do next," Adriana said.
"What we have here as opposed to other VCAL settings is a fairly strong welfare focus with a youth worker in each of the classrooms as well as the teacher, and Jane Davey the Assistant Principal as part of that very strong student welfare team."
"And what I think is an added advantage here at PRACE is that our VCAL students will mix with all of our other program areas. So for example, our VCAL students participate in and run the community café every Wednesday morning, and they might be serving coffees to our asylum seekers or to our education support students, staff, or members of community groups who use the Community Centre."
Adriana said that this community engagement produced a great atmosphere and benefitted the VCAL students, particularly those who had been through a period of social dislocation. This is because in studying at PRACE students had the opportunity to be around others adults in a community of learning.
So what's involved with enrolling in VCAL at PRACE? Do you need to live in Preston-Reservoir?
"No, if a young person can get here, if they can make their way here, then they're more than welcome to come here. They'll sit an interview and can commence immediately because there are no waiting lists. We will give anyone a go who wants to give themselves a shot," Adriana said.
PRACE's VCAL student-mix is broad. The college hosts young people who are long-term disengaged from school having been out of education for several years. These students may have been home and lost their connection to community, or be unsure of what to do next. This group also includes students who may have a disability, have mental health issues or perhaps were bullied at school and are hesitant to return to a formal education setting.
In addition, students who have decided to leave their mainstream high school perhaps because of a lack of VCAL options, or have been asked to leave, are welcome to continue their education at PRACE.
Adriana cited the school's policy of following up on absences as critical to ensuring PRACE students remain engaged in their educational journey. But even then, some young people need to be guided in different directions, which is where the RECONNECT program can help. Support workers are actively engaged with students and the school uses the RECONNECT program to support those students who intend leaving PRACE for other settings.
"RECONNECT will help them find the next thing," Adriana said.
"The idea behind RECONNECT was to be able to offer a casework service to those who weren't engaged in education or training and to assist them in finding their next education or training path. Through that some have made their way to PRACE but also some people who are leaving PRACE can be contacted and followed up after the fact to receive individual assistance to help them find the next thing."
The RECONNECT service is available to people aged 17 or older and who left school without completing Year 12 or who are 20-24 years old and completed Year 12 but have been unemployed for 12 months or more. There are other eligibility criteria so contacting PRACE is a good first step in seeing how RECONNECT can help.
PRACE's RECONNECT outreach service is delivered across the Darebin Council area at various locations such as the Northland Youth Centre. A PRACE RECONNECT bus will shortly roll-out, allowing disengaged young people further opportunities to reconnect with education, training and the workforce throughout Darebin.
LEARN MORE
RECONNECT eligibility can be found online at http://prace.vic.edu.au/reconnect/
For more information on RECONNECT call or text Adriana on 0457 892 893 or email reconnectcoordinator@prace.vic.edu.au
Information on PRACE's VCAL Program is available here: http://prace.vic.edu.au/applied-learning-vcal/